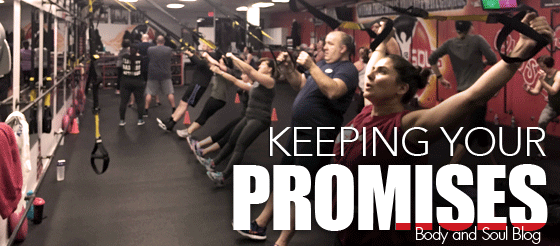 So how important is it really to keep your promises?

Let me rephrase that…

How important do you feel it is to match you're words and your actions?

Of course we've all been guilty of it. We promise we are going to be somewhere, and in our minds we all know we have zero intention of actually following through.

The question is… how does it affect the parties involved?

Does it build their trust in us and love for us? Or, does it do just the opposite?

I'm assuming you've also had this happen to you as well. You're near and dear friends said they would show up at an event or party you were holding and they never did.

What did that feel like?

Now let's change gears for a minute.

What about the promises we make to ourselves? Have you ever broken one of those?

The years of New Year's resolutions.

The late night promises, which in the morning only seem further away than ever.

The goals your made, which are still only dreams.

Let me ask you… does breaking your promises to yourself build or breakdown your own personal self-confidence?

I think we can all agree that it doesn't make us the biggest believers in ourselves.

So the magic formula is figuring out how we actually change this?

The answer is much simpler than you think.

We don't do it overnight.

We do it slow and steady, day after day consistently.

We do it by starting off accomplishing small promises we have made to ourselves regularly without waiver.

Overtime, this process continually builds our own self-trust.

Only when we reach a point where we trust ourselves will we earn the right to gain the trust of others.

So how important is it to keep your promises?

It is the root of all relationships past, present and future.

If you cherish these relationships and want others to cherish them with you, I highly recommend you compile your promises, and make good on them.

Have an outstanding inspired rest of your day!